This project applies digital education tools to traditional Gamelan teaching methods in order to create a website that helps students of the Bucknell Gamelan better learn their parts, and help students better understand Gamelan as a whole. The original instruments use several different tools in an effort to create a more interactive learning experience, helping students when they are not in rehearsal and do not have access to the instruments to more fully learn their parts, and be well prepared for rehearsal. The new instruments use a  program called Godot to create interactive and responsive instruments, free to download and easy to play.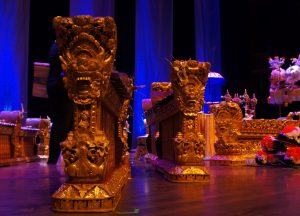 I use two main technologies in order to build this website for Gamelan learning, H5P and Tableau. H5P is an interactive content plug in for WordPress, creating things like short games, and quizzes, or content like interactive videos and photos. I used the interactive photo on the main instruments page which allows new and prospective students of Gamelan who may not know the names of the instruments, to navigate to the instrument they want even if they only know what it looks like.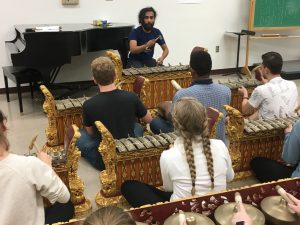 I created visual guides for each part of one piece of music recently played by the Bucknell Gamelan ensemble. The visual aspect was also a very specific choice, providing a v
isual that reflects how parts are taught in ensemble, without notation. In this way the videos provide a full guide that reflects Gamelan educational pedagogy while still being a useful resource for students.
I used tableau, with the help of Ken Flerlage, to set up Tableau programs which are pictures of the individual instruments with polygons set up over the keys, these keys are linked to audio, so students can click a key and it will play the sound that fits with that key. This process is explained on Ken's website. Therefore through the use of digital tools and standard digital education practices, students can watch, listen to, and actually practice their parts, and the only requirement is computer and access to the internet.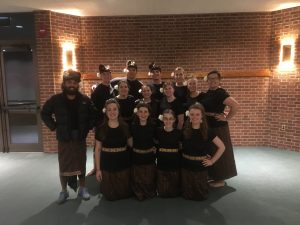 My hope for this project is to improve overall rate of gain and retention of new members into the Bucknell Gamelan Ensemble. I hope people who may not have known about the Gamelan will discover it, or be more interested in learning it after exploring my finished website. I also hope that members of the Gamelan feel more confident in their parts, and less time in rehearsal
Several programs are used in this project to create more interactive learning features, if you have more suggestions please email me at AJD024@Bucknell.edu
Thanks to the Digital Scholarship Summer Research Fellowship for allowing me to do this research, and teaching me what I needed in order to build this website. Learn more about DSSRF.